Virginia Beach Batting Cage Construction, Hampton Roads Batting Cage Builder
Batting Cage Construction in Virginia Beach, Chesapeake, Portsmouth, Norfolk & Hampton.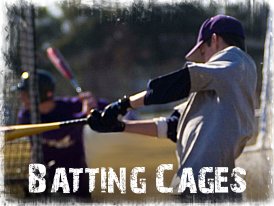 A
Batting Cage
is an enlosed, screened cage in which baseball players practice batting. Batting cages are popular training devices designed for the game of baseball, one of America's favorite pastimes. Because a sturdy, quality batting cage is essential for safe operation, a contractor is often hired to prepare the surface area and erect the batting cage. Our company specializes in Batting Cage Construction in Hampton Roads.
If you would like more information about batting cage construction in
Hampton Roads
,
Southeastern Virginia
,
Northeastern North Carolina
,
Richmond
, or
Washington D.C.
,
Contact Us
for a free quote. Our batting cage construction services are especially convenient for projects in
Virginia Beach
,
Chesapeake
,
Norfolk
,
Portsmouth
,
Newport News
, and
Suffolk
.

We proudly serve the athletic and batting cage construction needs of Hampton Roads. Whether it's a batting cage in Virginia Beach, a soccer field in Chesapeake, a tennis court in Suffolk, or a batting cage construction project in Norfolk, we are prepared to serve you. Contact Us today and put our experience to work for you.