Hampton Roads Drainage Solutions, Trench Digging, Drainage Ditches, & Land Grading
Drainage Contractor in Virginia Beach, Chesapeake, Portsmouth, & Hampton.

Golf Course Construction, Drainage, Hydroseeding & more!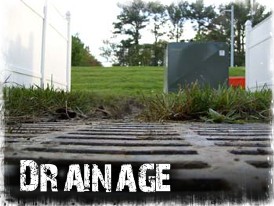 Drainage
refers to how excess water flows and collects in a given area. Drainage is an important consideration for yards, lawns, landscaping projects, construction projects, and land grading operations. Many sites require drainage ditches or trenches to handle excess water, in addition to underground drainage systems and proper land grading and sloping. Our company specializes in Drainage Systems, Ditch Digging, Trenches, Land Grading, and generally all services relating to drainage issues.
If you would like more information about our drainage services in
Hampton Roads
,
Southeastern Virginia
,
Northeastern North Carolina
,
Richmond
, or
Washington D.C.
,
Contact Us
for a free quote. Our drainage services are especially convenient for projects in
Virginia Beach
,
Chesapeake
,
Norfolk
,
Portsmouth
,
Newport News
, and
Suffolk
.

We proudly serve the drainage needs of Hampton Roads. Whether it's trenches in Virginia Beach, ditches in Chesapeake, land grading in Suffolk, drainage systems in Newport News, or earthshaping in Portsmouth, we are prepared to serve your water drainage needs. Contact Us today and put our fleet to work for you.