Hampton Roads Earthmoving, Earthshaping, Dirt Moving, & Land Grading
Earthmoving Contractor in Virginia Beach, Chesapeake, Portsmouth, & more.

Golf Course Construction, Drainage, Hydroseeding & more!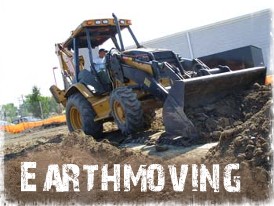 Earthmoving
is the act of moving dirt from one area to another, often with the use of heavy equipment. Earthmoving is performed in golf course construction, landscaping, drainage projects, and land grading operations. A backhoe or bulldozer is used to dig, push, pull, and shape earth in the desired fashion. Our company specializes in Earthmoving, Digging, Earthshaping, Bulldozing, Grading, and generally all services relating to earthmoving.
If you have an earthmoving project in
Hampton Roads
,
Southeastern Virginia
,
Northeastern North Carolina
,
Richmond
, or
Washington D.C.
,
Contact Us
for a free quote. Our earthshaping services are especially convenient for projects in
Virginia Beach
,
Chesapeake
,
Norfolk
,
Portsmouth
,
Newport News
, and
Suffolk
.

We proudly serve the earthmoving needs of Hampton Roads. Whether it's earthshaping in Virginia Beach, bulldozing in Portsmouth, dirt digging in Suffolk, dirt moving in Newport News, or earthmoving in Chesapeake, we are prepared to serve you. Contact Us today and put our earth moving fleet to work for you.