Hampton Roads Hydroseeding, Hydraseeding, & Hydro-Mulching
Hydroseeding Contractor in Virginia Beach, Chesapeake, Norfolk, Portsmouth, & more.

Golf Course Construction, Drainage, Hydroseeding & more!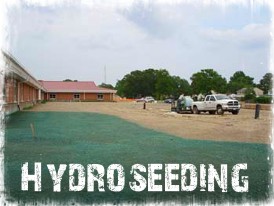 Hydroseeding
is a form of planting in which a slurry of seed, mulch, & fertilizer are sprayed over the planting area. Hydroseeding is a highly effective and relatively affordable type of mass-planting and is often used to plant grass in golf courses, commercial sites, lawns, gardens, and erosion control projects. We are an experienced hydroseeding contractor specializing in Hydroseeding, Hydraseeding, Hydro-Mulching, and generally all services relating to Hydro-seeding.
If you have a question about hydroseeding in
Hampton Roads
,
Southeastern Virginia
,
Northeastern North Carolina
,
Richmond
, or
Washington D.C.
,
Contact Us
for a free quote. Our excavation services are especially convenient for projects in
Virginia Beach
,
Chesapeake
,
Norfolk
,
Portsmouth
,
Newport News
, and
Suffolk
.

We proudly serve the hydroseeding needs of Hampton Roads. Whether it's a golf course in Chesapeake, a highway hydroseeding project in Norfolk or Portsmouth, erosion control in Newport News, or lawn hydroseeding in Virginia Beach, we are ready to serve you. Contact Us today and put our fleet to work for you.