Hampton Roads Putting Green, Synthetic Turf, & Artificial Grass
Putting Green Contractor in Virginia Beach, Chesapeake, Portsmouth, & Norfolk.

Golf Course Construction, Drainage, Hydroseeding & more!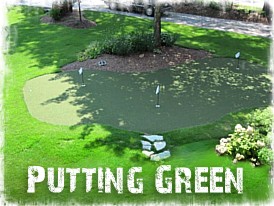 Putting Green
, also known as
artificial grass
or
synthetic turf
, is an alternative to traditional grass that offers several advantages for certain applcations. Due to its consistent coverage and ease of maintenance, artificial grass is frequently used in golf courses, indoor sports centers, lawns, landscaping projects, and athletic fields such as soccer fields, football fields, baseball fields, and tennis fields. Our company specializes in Puting Green, Synthetic Turf Grass, Artificial Grass, Fake Grass, Astroturf, and generally all services relating to artificial grass.
If you have questions about artificial grass in
Hampton Roads
,
Southeastern Virginia
,
Northeastern North Carolina
,
Richmond
, or
Washington D.C.
,
Contact Us
for a free quote. Our artificial turf installation services are especially convenient for projects in
Virginia Beach
,
Chesapeake
,
Norfolk
,
Portsmouth
,
Newport News
, and
Suffolk
.

We proudly serve the artificial turf needs of Hampton Roads. Whether it's a putting green in Virginia Beach, an indoor sports center in Norfolk, a soccer field in Chesapeake, a baseball field in Suffolk, or an artificial lawn in Portsmouth, we are prepared to serve you. Contact Us today and put our expertise to work for you.