Hampton, Virginia

Excavation, Lot Clearing, Grading, Heavy Equipment Services, Tree Removal & more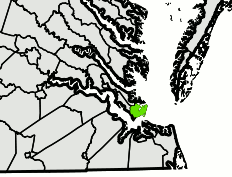 About Hampton
Originally an Indian village called Kecoughtan, Hampton was first discovered by English colonists before they settled in Jamestown. The settlement of Hampton goes back to 1610 with the founding of Fort Henry and Fort Charles at the mouth of Hampton Creek. The settlement was referred to as "Hampton" by 1680, after Henry Wriothesley, 3rd Earl of Southampton, a leader of the Virginia Company of London. In 1705 the area of Hampton became a town. The city continued to grow, and in 1849, the city of Hampton was incorporated. Hampton further expanded in 1952 by consolidating former Elizabeth City County and Phoebus into the modern city of Hampton. Today, Hampton is a growing city with more than 141,000 residents.
The city of Hampton has become home to several major centers, including the Langley Air Force Base, the NASA Langley Research Center, and the Virginia Air and Space Center. Hampton is also known for Hampton University, the Hampton Coliseum, and for hosting the northern terminal of the Hampton Roads Bridge-Tunnel (HRTB), which is the world's first bridge-tunnel, and a major route for thousands of Hampton Roads commuters.
Hampton's Geography, Position, & Landscape
Hampton is a city surrounded by water, and is an excellent location for naval operations. Most of the land is urbanized, and is divided into military installations, industries, business centers, shopping centers, and residential areas. Like other Hampton Roads cities, many Hampton construction projects are redevelopment projects, involving the demolishing of old buildings and city blocks to replace them with new buildings, shopping centers, and homes.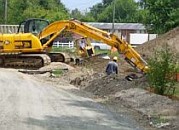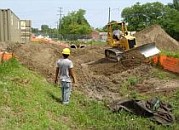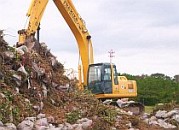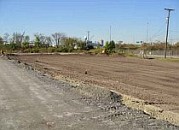 Hampton Excavation, Lot Clearing, Grading, Tree Clearing, Hydroseeding, & Site Preparation
As Hampton continues to grow and develop, old structures are removed, and new construction takes place. Premier Earth Shaping is a Hampton excavation, site development, grading, dirt moving, and tree removal contractor. We offer Hampton land leveling, site clearing, excavation, and dirt moving services. If you have a Hampton construction project needing our site clearing, excavation, or dirt moving services, call Premier Earth Shaping. We are an insured and certified Class A Contractor offering Hampton earthworks services including:
Excavation

Lot Clearing

Site Preparation

Tree Clearing

Grading

Land Leveling

Dirt Moving

Earthmoving

Bulldozing

Bush hogging

Hydroseeding

Soccer Field Construction

Drainage Systems & Ditch Digging

Golf Course Management

Basketball Court Construction

And More!
Get your FREE project quote for your Portsmouth construction project. Just click the button below to submit a request online, or call us. We would love to help you.
Sources: "Hampton History and Facts " hampton.gov. 22 Nov. 2010 .
"Hampton, Virginia" Wikipedia, the free encyclopedia. 22 Nov. 2010 .

Franklin
Poquoson
& MORE!