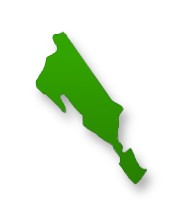 Newport News, Virginia

Excavation, Lot Clearing, Grading, Site Development, Tree Removal & more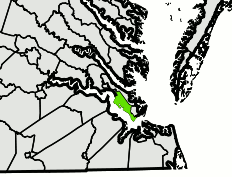 About Newport News
Shortly after the establishment of Jamestown Settlement in 1607, English explorers began settling in nearby areas. Capt. Christopher Newport, whose name the city came to adopt, first explored the area in 1607. In 1619, the site of Newport News was included under the Virginia Company of London, and the general area became known as Elizabeth Cittie. Elizabeth Cittie reached west all the way to Skiffe's Creek, the current the border between Newport News and James City County. All of present-day South Hampton Roads also fell under the Elizabeth Cittie incorporation.
Newport News began as farmlands and was a simple fishing village until the railroad came and the shipyard was constructed. The land remained relatively the same until 1881, when 15 years of extensive development began under Collis P. Huntington, a wealthy businessman who built the first transcontinental railroad across the United States. His new "Peninsula Extension" of the Chesapeake and Ohio Railway opened up a fast transportation path to the west, and provided an excellent route for the transport of coal from West Virginia to the coast for shipping and export. The Hampton Roads harbor became the largest coal export point in the world by 1915. The growth of Newport News was so great, that in 1896 the Virginia General Assembly made it an independent city without first making it a town.
In 1886, Huntington built a shipyard in Newport News to repair ships that serviced this transportation hub: the Newport News Shipbuilding and Drydock Company. This shipyard continued to grow and expand, and played a pivotal role in World War I and II as a shipbuilder for the military. Today, the shipyard is known as Northrop Grumman Shipbuilding, and still services military ships of all kinds. It is one of only two shipyards that can service all types of nuclear powered submarines and is the only shipyard that can build supercarriers.
Newport News Geography, Position, & Landscape
Newport News, as the name suggests, is a port city, and the city's economy revolves around port operations, shipping, and shipbuilding. Newport News is a major transportation hub for products traveling from east to west and vice versa. The landscape of Newport News is a cityscape, with various shops, businesses, and residential areas forming the land area. The completion of Interstate 664, the larger Monitor-Merrimac Memorial Bridge-Tunnel, and the rebuilt James River Bridge have increased access to Newport News in recent years, and have brought new life into the downtown area.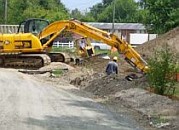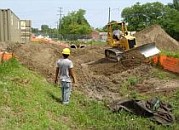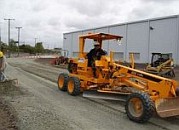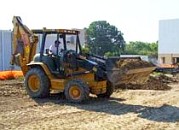 Newport News Excavation, Lot Clearing, Grading, Tree Clearing, Hydroseeding, & Site Preparation
Like other cities with downtown areas, Newport News has experienced explosive growth that has made old buildings, apartment houses, and retail centers obsolete. Newport News has undertaken redevelopment projects to remove these dilapidated areas and replace them with new homes and businesses. A large part of new commercial development has occurred along the Warwick Boulevard and Jefferson Avenue areas, with new commercial, industrial, residential, and mixed development such as City Center, Oyster Point, and Kiln Creek.
Such construction and excavation projects in Newport News require the services of an experienced excavator, site developer, land grader, and earth mover. Premier Earth Shaping is a Newport News lot clearing, site development, grading, excavation, tree removal, and dirt moving contractor. We offer Newport News excavation, lot clearing, land leveling, and site preparation services. If you have a Newport News construction project needing dirt clearing, land leveling, site clearing, grading, or dirt moving services, call Premier Earth Shaping. We are an insured and certified Class A Contractor offering Newport News earthworks services including:
Excavation

Lot Clearing

Site Preparation

Tree Clearing

Grading

Land Leveling

Dirt Moving

Earthmoving

Bulldozing

Bush hogging

Hydroseeding

Soccer Field Construction

Drainage Systems & Ditch Digging

Golf Course Management

Basketball Court Construction

And More!
Get your FREE project quote for your Newport News construction project. Just click the button below to submit a request online, or call us. We would love to help you.
Sources: "Newport News, Virginia" Wikipedia, the free encyclopedia. 23 Nov. 2010 .
"History of Newport News, Virginia" Wikipedia, the free encyclopedia. 23 Nov. 2010 .
"Northrop Grumman Shipbuilding Newport News" Wikipedia, the free encyclopedia. 23 Nov. 2010 .

Franklin
Poquoson
& MORE!