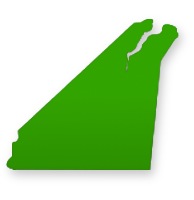 Suffolk, Virginia

Excavation, Grading, Site Development, Tree Clearing, Lot Clearing & more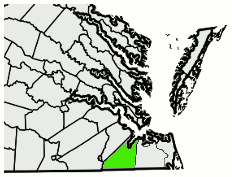 About Suffolk
Suffolk's modern history began in 1608 with English settlement and trade with the Nansemond Indians. Trade continued to expand along the Nansemond River, with John Constant founding an important trading center known as Constant's Wharf, which would eventually become the Town of Suffolk in 1742. The Town was called "Suffolk" after the Governor's English home in Suffolk County, England.
The Town of Suffolk was burned by the British in 1779, but even that could not stop the town from growing. In 1910, Suffolk became a city, with more businesses establishing themselves in the area. One such business is the Planters Nut and Chocolate Company. In 1912, Amedeo Obici moved from Pennsylvania to Suffolk and founded his company there. Suffolk would continue to serve as a major peanut processing center and business hub in the Hampton Roads area.
Suffolk Landscape, Position, & Geography
Suffolk is located west of the large eastern cities of Norfolk, Portsmouth, and Virginia Beach. Its position has helped to establish it as an important connnection hub. Due to its position and large land area, Suffolk provides excellent land development and construction opportunities. Today, Suffolk is the largest city in Virginia by land area, encompassing 430 square miles. Suffolk's vast space adds to its variety of urban cities and rural, undeveloped areas.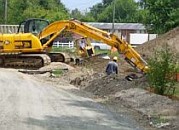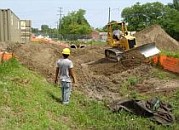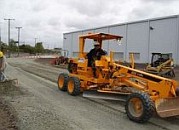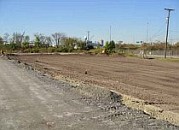 Suffolk Excavation, Dirtmoving, Tree Clearing, Grading, Hydroseeding, & Bushhogging
Suffolk is an especially active Hampton Roads community, with new residential and commercial development continuing to change the face of the landscape. Premier Earth Shaping is a Suffolk excavation, tree clearing, lot clearing, grading, site development, and earthmoving contractor. We offer site preparation, excavation, and land leveling services to every portion of Suffolk. If you have a Suffolk construction project needing earthworks services, we are the ones to call. We are an insured and certified Class A Contractor offering a multitude of earthmoving services including:
Excavation

Tree Clearing

Site Preparation

Land Clearing

Grading

Land Leveling

Dirt Moving

Earthmoving

Bulldozer Services

Bushhogging

Hydroseeding

Soccer Field Construction

Drainage Solutions & Ditch Digging

Golf Course Management

Basketball Court Construction

And More!
Get your FREE project quote for your Suffolk construction project. Just click the button below to submit a request online, or call us. We would be honored to help you.
Sources: "Preserve America Community: Suffolk, Virginia" Preserveamerica.gov. 19 Nov. 2010 .


Franklin
Poquoson
& MORE!